Register
◊
Seminars/Locations
◊
Seminars/Daily Schedule
◊
Seminars Registration/Payment
Who's Teaching
◊
Course Materials
◊
Parking/Misc.
◊
Cancellations/Refunds
Onsite Seminar/Training
◊
Group Discounts
Course Description
Expert-led training on Exchange Server 2010 administration. This training course is meant to examine Exchange Server 2010 and its features while giving maximum learning potential to new Exchange administrators, Exchange developers and anyone else wanting to learn about Exchange Server 2010. It's meant to get you started, expand your knowledge, and can also help you take your skills to the next level.
Prerequisites
Familiarity with system administration and configuration of Windows Server.
What Will I Learn?
Just about everything you need to effectively install, configure, manage and maintain Exchange Server 2010!
Who's Teaching?
Instruction by one of the world's leading experts:
William R. Stanek -- no substitutes, no second-stringers.
I teach all classes. There will never be a substitute. Here's the bio blurb if you need to know more:
William R. Stanek (williamstanek@aol.com) has over 20 years of hands-on experience with advanced programming and development. He is a leading technology expert and an award-winning author. Over the years, his practical advice has helped millions of programmers, developers and network engineers all over the world. He has written over 50 computer books, which are sold all over the world and there are more than 3 million copies of his books in print. Current or forthcoming books include Windows Server 2008 Inside Out, Windows Command-Line Administrator's Pocket Consultant, Windows Server 2003 Administrator's Pocket Consultant 2nd Edition, Windows Server 2008 Administrator's Pocket Consultant, Windows 7 Administrator's Pocket Consultant and IIS 7.0 Administrator's Pocket Consultant.

William has been involved in the commercial Internet community since 1991. His core business and technology experience comes from over 11 years of military service. He has substantial experience in developing server technology, encryption, and Internet solutions. He has written many technical white papers and training courses on a wide variety of topics. He is widely sought after as a subject matter expert.

William has an MS in Information Systems degree with distinction and a BS Computer Science degree magna cum laude. He is proud to have served in the Persian Gulf War as a combat crewmember on an electronic warfare aircraft. He flew on numerous combat missions into Iraq and was awarded nine medals for his wartime service, including one of the United States of America's highest flying honors, the Air Force Distinguished Flying Cross. Currently, he resides in the Pacific Northwest with his wife and children.

More Details...
About the Related Book
Speed and ease of reference is an essential part of this hands-on guide. The book has an expanded table of contents and an extensive index for finding answers to problems quickly. Many other quick reference features have been added as well. These features include quick step-by-step instructions, lists, tables with fast facts, and extensive cross-references. The book is broken down into both parts and chapters.
Part I, "Exchange Server 2010 Administration Fundamentals," provides an overview of Exchange servers and Exchange clients. Chapter 1 provides an overview of Exchange Server 2010 administration concepts, tools, and techniques. Chapter 2 discusses deploying Exchange Server.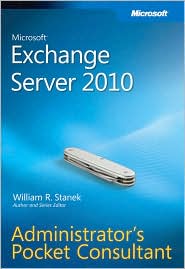 In Part II, "Exchange Server 2010 Administration Essentials," I cover the fundamental tasks you need for Exchange Server administration. Chapter 3 details how Exchange environments are organized, how information is stored in Exchange Server, and how Exchange Server works. The chapter also explores Exchange message queues and Exchange Server service management. Chapter 4 discusses Windows PowerShell and Exchange Management Shell, providing the essential background for using these powerful command-line environments for Exchange Server administration. Chapter 5 takes a look at creating and managing users and contacts. You'll learn all about Exchange aliases, enabling and disabling exchange mail for individual users, forwarding mail offsite, and more. Chapter 6 discusses mailbox administration, including techniques for configuring special-purpose resource mailboxes, moving mailboxes, and configuring mailbox delivery restrictions. In Chapter 7, you'll find a detailed discussion of how to use distribution groups and address lists. You'll also learn how to manage these resources. The final chapter in this part covers implementing Exchange security.
In Part III, "Server and Group Administration," I discuss advanced tasks for managing and maintaining Exchange organizations. Chapter 9 provides the essentials for managing database availability groups and using full-text indexing. Chapter 10 examines administration of mailbox and public folder databases. The chapter also covers how to recover disconnected mailboxes and deleted messaging items. Chapter 11 looks at how you can use public folders in the enterprise.
Chapter 12 provides a comprehensive discussion of deploying and managing Hub Transport servers and Edge Transport servers. The chapter examines SMTP connectors, Active Directory sites, Active Directory links, and connecting to Exchanged 2003 routing groups. The chapter also examines configuring EdgeSync subscriptions, journal rules, transport rules, and antispam features. Chapter 13 provides a comprehensive discussion of deploying and managing Client Access servers. The chapter examines HTTP virtual servers, POP3, IMAP4, and Outlook Anywhere. The chapter also examines configuring Exchange Server features for mobile devices including Autodiscovery, Direct Push, Exchange ActiveSync Mailbox Policy, Remote Device Wipe, Password Recovery, Direct File Access, Remote File Access, and WebReady Document Viewing.
Part IV, "Exchange Server 2010 Optimization and Maintenance," discusses optimization and maintenance. Chapter 14 discusses how you can use messaging resource management to help retain messaging content that your organization may need for business or legal reasons and how to delete messages that are no longer needed. Chapter 15 discusses troubleshooting essentials as well as Exchange maintenance, monitoring, and queuing. You'll learn key techniques for using message tracking, protocol logging, and connectivity logging for troubleshooting. You'll also learn techniques for automated monitoring and managing Exchange message queues—both of which can help ensure that your Exchange organization runs smoothly. Chapter 16 details how to back up and restore Exchange Server. You'll learn key techniques that can help you reliably back up and, more important, recover Exchange Server in case of failure.
Chapter 17 covers Exchange client setup and management. Chapter 18 extends the Exchange client discussion and looks at mobile Microsoft Office Outlook users as well as Exchange Active Sync, Outlook Web Access, and Outlook Anywhere. With more and more users working on the road or from home, this chapter helps ensure that you can give these mobile users the best support possible.